FOR IMMEDIATE RELEASE
New Airline and New Cities Arrive at South Florida's Favorite Airport
Breeze Airways Comes to Palm Beach International Airport with Six Unserved Cities
West Palm Beach, Fla. (December 6, 2021) – PBI welcomes its 13th airline, Breeze Airways in the airline's debut in South Florida. Breeze will introduce Saturday-only roundtrips from the Palm Beaches (PBI) to six new cities starting Feb. 19, 2022: Akron/Canton, Ohio (CAK), Charleston, SC (CHS), Columbus, Ohio (CMH), New Orleans, LA (MSY), Norfolk, VA (ORF) and Richmond, VA (RIC). 
"The addition of Breeze to PBI is so exciting for the Palm Beaches and South Florida," said Laura Beebe, director of airports for Palm Beach County.  "PBI is known for an easy, convenient, and stress-free traveler experience and the addition of six new cities means more people will start and end their trip happier. We welcome Breeze and are confident this new partnership will be a great success."
Fares from PBI to Charleston (CHS) and New Orleans (MSY) will start at $39 one-way. PBI to Akron/Canton (CAK), Columbus (CMH), Norfolk (ORF) and Richmond (RIC) will start at $59 one-way. Tickets available on flybreeze.com or the Breeze Airways app.
"It's so nice to be back in Palm Beach," said David Neeleman, Chairman and CEO at Breeze Airways.  "We're so excited to bring six new cities to PBI, and you never have change or cancellation fees at Breeze."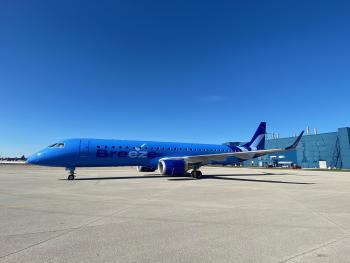 Photo courtesy of Breeze
"The addition of six new city markets with Breeze Airways to our growing roster of flight service into Palm Beach International Airport is incredibly exciting," commented president & CEO of Discover The Palm Beaches, Jorge Pesquera. "We're grateful to be a part of this new and progressive aviation company's expanding flight plan; connecting travelers and often underserved routes around the United States to America's First Resort Destination -The Palm Beaches."
Air Service by Airline and Destination
www.pbia.org/airservice
Media Contact:
Palm Beach International Airport
Lacy Larson
Director, Airports Marketing
Palm Beach County Dept. of Airports
(561) 471-7467
About Palm Beach International Airport (PBI)
Palm Beach International Airport (PBI) serves more than 6.7 million passengers annually and offers 200 nonstop flights daily with 13 airlines. As a part of PBI's COVID-19 Preparedness and Response Plan, PBI became an accredited GBAC STAR™ facility and achieved Airport Health Accreditation by Airports Council International.
PBI is proud to be named the 8th Best Domestic Airport in Travel + Leisure Magazine's 2021 World's Best Awards. PBI also boasts 7th Best Airport in the World and 7th Best Airport in the U.S. in Conde Nast Traveler's 2021 Readers' Choice Awards. PBI ranks Best in the U.S. for Shortest Overall TSA Wait Times by U.S. Customs and Border Protection. For more information, visit pbia.org and follow PBI on Facebook, Twitter and Instagram for updates and announcements.
###