WEST PALM BEACH, Fla. (May 10, 2019) – Palm Beach International Airport (PBI) releases the new 2019 Spring/Summer Schedule.  
Frontier extends nonstop Raleigh/Durham (RDU) service into Fall 2019, offered Tuesday, Thursday and Sunday
Year-round, nonstop daily service to Providence (PVD) continues with jetBlue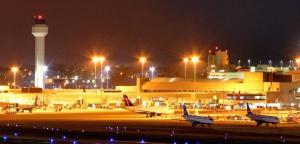 Pictured: PBI at night.

Air Service by Airline and Destination
www.pbia.org/airservice

About Palm Beach International Airport (PBI)

FDOT recently released its updated Florida Statewide Aviation Economic Impact Study, a project that started back in October 2016. This report shows that Palm Beach International Airport generates more than $5.6 billion to the South Florida economy, both directly and indirectly.  
Palm Beach International Airport serves over 6.5 million passengers annually and offers over 200 nonstop flights daily.  Palm Beach International Airport is proud to be named the 9th Best Domestic Airport from prestigious Travel + Leisure Magazine's 2018 World's Best Awards for the second year running and has been recognized by Travel + Leisure, tripadvisor, Conde Nast Traveler, MissTravel, and Fox News for convenience, hospitality and amenities.  Palm Beach International Airport named fifth Best Medium Airport in the 2017 J.D. Power North America Airport Satisfaction Survey and #1 in U.S. Airports for Overall TSA Wait Times by U.S. Customs and Border Protection.  For more information, visit www.pbia.org, www.PBIA.org/blog and follow PBI on Facebook, Twitter and Instagram for updates and announcements.
Media Contacts:                                 
Palm Beach International Airport
Lacy Larson                                                                                            
Director, Airports Marketing                                                                    
Palm Beach County Dept. of Airports                                                     
Tel: (561) 471-7467
###