FOR IMMEDIATE RELEASE
Sun Country Airlines announces a return to PBI with new Minneapolis service
Growing traveler demand brings back ultra-low cost carrier to PBI with service from the Midwest to The Palm Beaches
West Palm Beach, Fla. (June 29, 2021) - PBI welcomes the return of Sun Country Airlines to The Palm Beaches with twice weekly nonstop service from Minneapolis-St. Paul International Airport (MSP), Minneapolis, beginning Oct. 7, 2021. Sun Country Airlines will operate the Thursday/Sunday nonstop service using its 186 passenger Boeing 737-800 livery.
"We are excited to announce the return of Sun Country Airlines to PBI this fall. The increase in nonstop service from The Twin Cities gives our passengers more options and opportunities to visit The Palm Beaches," said Laura Beebe, director of airports for Palm Beach County. "Sun Country Airlines continues to be a great partner and we look forward to a very successful winter."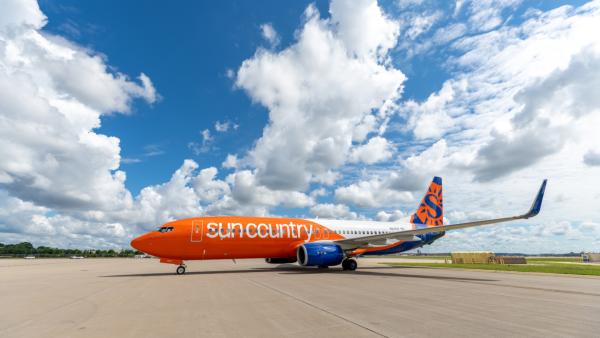 Sun Country Airlines Boeing 737-800. Photo courtesy of Sun Country Airlines.
"We are thrilled to announce the addition of Palm Beach International Airport to our growing network in the Sunshine State," said Grant Whitney, Sun Country Airlines Chief Revenue Officer. "Sun Country now serves nine Florida markets, with the addition of PBI. We know there is pent-up demand for convenient, affordable travel to beautiful destinations, so we're especially excited to offer folks the opportunity to enjoy even more of Florida and all Palm Beach County has to offer."
Air Service by Airline and Destination
Media Contact:
Palm Beach International Airport
Lacy Larson (she/her)
Director, Airports Marketing
Palm Beach County Dept. of Airports
(561) 471-7467
About Sun Country
Sun Country Airlines is a new breed of hybrid low-cost air carrier that dynamically deploys shared resources across our synergistic scheduled service, charter and cargo businesses. Based in Minnesota, we focus on serving leisure and visiting friends and relatives ("VFR") passengers and charter customers and providing cargo CMI services, with flights throughout the United States and to destinations in Mexico, Central America and the Caribbean.
For information and to book service, visit suncountry.com.
About Palm Beach International Airport (PBI)

Palm Beach International Airport (PBI) serves more than 6.7 million passengers annually and offers 200 nonstop flights daily with 10 airlines. As a part of PBI's COVID-19 Preparedness and Response Plan, PBI became an accredited GBAC STAR™ facility and achieved Airport Health Accreditation by Airports Council International.
PBI is proud to be named the 7th Best Airport in the World and 3rd Best Airport in the U.S. in Conde Nast Traveler's 2020 Readers' Choice Awards and 9th Best Domestic Airport in Travel + Leisure Magazine's 2020 World's Best Awards. PBI was named Second Best Medium Airport in the 2020 J.D. Power North America Airport Satisfaction Survey and ranked Best in the U.S. for Shortest Overall TSA Wait Times by U.S. Customs and Border Protection. For more information, visit pbia.org and follow PBI on Facebook, Twitter and Instagram for updates and announcements.
###