ESCAPE LOUNGE PBI OPENS, OFFERING PASSENGERS A FIRST CLASS LOUNGE EXPERIENCE
West Palm Beach, FL- (December 15, 2020) - Palm Beach International Airport (PBI) is excited to announce the opening of Escape Lounge PBI. Formerly Primeclass Lounge, Escape Lounge PBI is located just past security on Concourse B.  Escape Lounge PBI is open to all travelers regardless of airline or status. Passengers departing through Concourse C can access Escape Lounge PBI by presenting a valid boarding pass at the Concourse B security checkpoint. Travelers can expect the same premium service and food and beverage experience that they know and love from other Escape Lounges around the United States while surrounded by a serene aesthetic uniquely inspired by the Palm Beaches.
Access to Escape Lounge PBI is open to all travelers for $40 if booked in advance at EscapeLounges.com or $45 if paid at the door. Escape Lounges are part of the American Express Global Lounge CollectionSM giving American Express® Platinum Card® Members complimentary access, along with 2 guests, to all US locations. In addition, American Express® Green Card Members receive up to a $100 statement credit per calendar year for lounge access booked through LoungeBuddy.
Guests entering the lounge will receive unlimited amenities that include hot and cold chef-curated food, premium alcoholic and non-alcoholic beverages, plush and relaxing seating with ample power outlets, high-speed Wi-Fi, up-to-the-second flight information, and access to 7,000+ digital publications in 60+ languages from 120+ countries.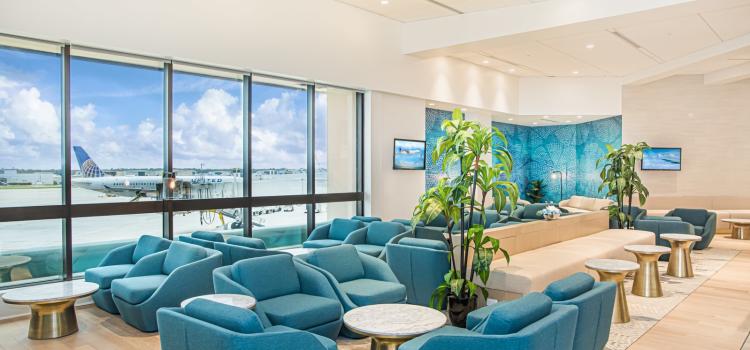 Escape Lounge PBI on Concourse B
"We are pleased to welcome the Escape Lounge experience to PBI," said Laura Beebe, director of airports for Palm Beach County. "Although many lounges and restaurants remain closed at airports throughout the United States due to reduced passenger demand, PBI continues to strive to provide the services desired by passengers while ensuring that proper protocols have been established for a safe and pleasurable travel experience."
To combat the spread of Covid-19, Escape Lounge PBI is following the guidance of state and local health requirements as well as adding their own safety protocols that include required face masks for staff and guests, following a thorough sanitizing schedule for all surfaces, contactless entry, social distancing measures, contactless food and drink menus and digital-only reading entertainment.
About Palm Beach International Airport
During these unprecedented times, PBI continues to work diligently to uphold fiscal responsibility, provide robust air service, and maintain the highest standards in airport experience our passengers and guests have come to expect. To read more about PBI's commitment to recovery, please review the PBI Comprehensive Guide: Pandemic Preparedness and Response. To best serve passengers, guests, and employees, PBI became the first airport in Florida to achieve GBAC STAR™ facility accreditation, ensuring a safe, sterile, and clean facility. Palm Beach International Airport is proud to be named the 9th Best Domestic Airport in Travel + Leisure Magazine's 2020 World's Best Awards and 3rd Best Airport in the U.S. in Condé Nast Traveler's 2020 Readers' Choice Awards. Palm Beach International Airport was named Second Best Medium Airport in the 2020 J.D. Power North America Airport Satisfaction Survey. For more information, visit pbia.org and follow PBI on Facebook, Twitter, and Instagram for updates and announcements.

Media Contact:                                 
Palm Beach International Airport
Lacy Larson                                                                                            
Director, Airports Marketing                                                                    
Palm Beach County Dept. of Airports                                                     
Tel: (561) 471-7467
About Escape Lounges
Escape Lounges is an award-winning common-use airport lounge offering a relaxing atmosphere away from the hustle and bustle of the main terminal environment that is changing the way people travel in airports. EscapeLounges.com
Media Contact:
MAG USA
Erica Bauer
PR & Marketing
Tel: (312)-771-0803