Solar Trees and Canopy Take Root at Palm Beach International Airport
New solar installations made possible through FPL's SolarNow program 
WEST PALM BEACH, Fla. (Jan. 9, 2019) – Palm Beach International Airport (PBI) and Florida Power & Light Company (FPL) have partnered to add new innovative solar arrays that will promote sustainability to millions of travelers, while harnessing the power of the sun.
As of January 2019, PBI is now home to three solar trees, which are located on the inbound airport access road, Turnage Blvd. just before the parking garage, and a solar canopy is soon to come.  The canopy will live in the cell phone waiting lot at the PBI Travel Plaza and will provide shade for 10 parking spaces in the far west lot.  These combined 230 solar panels will be producing more than 65 kilowatts of clean, zero-emissions energy.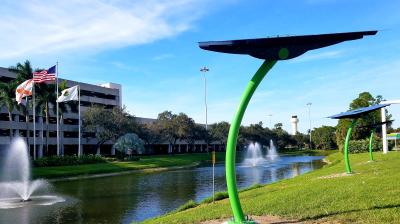 Pictured are Florida Power & Light Company's (FPL) solar trees at Palm Beach International Airport (PBI), which were installed on Jan. 9, 2019. The partnership between FPL and PBI comes from FPL's SolarNow program.
"The FPL SolarNow program makes a lot of sense and with the addition of hundreds of solar panels at PBI; it is an exciting and positive step in the right direction as we work toward decreasing our environmental footprint.  In addition to producing clean, zero-emissions energy, the solar canopy in our cell phone lot is a great benefit for our guests waiting on arriving passengers, providing shade and a cooler place to sit," said Director of Airports Laura Beebe.  "We think that the solar trees will be an interesting feature for airport visitors, and hopefully, it sparks interest in solar energy," Beebe added.
The FPL SolarNow program is bringing more solar into local communities. Their distinctive design is easily integrated into urban landscapes, providing people an opportunity to see and learn about solar energy up close – something many have never experienced because solar panels are usually located out of sight on rooftops or at universal solar energy centers, like the 14 FPL is operating across the state.
"We are excited that Palm Beach International Airport has joined our SolarNow family," said Matt Valle, Vice President of FPL Development. "Through this partnership, we have the opportunity to show millions of people that come through this airport that Florida is truly living up to its name as the Sunshine State."
FPL SolarNow is a voluntary program that provides FPL customers with an easy way to support the development of solar arrays in local communities. More than 5,000 of the 44,000 participants enrolled in the program call Palm Beach County home.
About Palm Beach International Airport (PBI)
Palm Beach International Airport serves over 6.5 million passengers annually and offers over 200 nonstop flights daily.  Palm Beach International Airport is proud to be named the 9th Best Domestic Airport from prestigious Travel + Leisure Magazine's 2018 World's Best Awards for the second year running and has been recognized by Travel + Leisure, tripadvisor, Conde Nast Traveler, MissTravel, and Fox News for convenience, hospitality and amenities.  Palm Beach International Airport named fifth Best Medium Airport in the 2017 J.D. Power North America Airport Satisfaction Survey and #1 in U.S. Airports for Overall TSA Wait Times by U.S. Customs and Border Protection.  For more information, visit www.pbia.org, www.PBIA.org/blog and follow PBI on Facebook, Twitter and Instagram for updates and announcements.
Media Contacts:                                 
Palm Beach International Airport
Lacy Larson                                                                                            
Director, Airports Marketing                                                                    
Palm Beach County Dept. of Airports                                                     
Tel: (561) 471-7467
Florida Power & Light Company
Media Line: 561-694-4442
@FPL_Newsroom
About Florida Power & Light Company
Florida Power & Light Company is the third-largest electric company in the United States, serving nearly 5 million customer accounts or an estimated 10 million+ people across nearly half of the state of Florida. FPL's typical 1,000-kWh residential customer bill is approximately 30 percent lower than the latest national average and among the lowest in the U.S. FPL's service reliability is better than 99.98 percent, and its highly fuel-efficient power plant fleet is one of the cleanest among all electric companies nationwide. The company was recognized in 2017 as one of the most trusted U.S. electric utilities by Market Strategies International for the fourth consecutive year. A leading Florida employer with approximately 8,700 employees, FPL is a subsidiary of Juno Beach, Florida-based NextEra Energy, Inc. (NYSE: NEE), a clean energy company widely recognized for its efforts in sustainability, ethics and diversity, and has been ranked No. 1 in the electric and gas utilities industry in Fortune's 2018 list of "World's Most Admired Companies." NextEra Energy is also the parent company of NextEra Energy Resources, LLC, which, together with its affiliated entities, is the world's largest generator of renewable energy from the wind and sun. For more information about NextEra Energy companies, visit these websites: www.NextEraEnergy.com, www.FPL.com, www.NextEraEnergyResources.com.
###