Your Heart Is Your Ticket To Inspiration
Call to Artists channels the power and energy of hope, healing, love, and community unity with new art exhibition at PBI.
West Palm Beach, Fla: (Sept. 27, 2021)- Palm Beach International Airport, in partnership with Palm Beach County Art in Public Places, is excited to announce the theme of "MORE HOPE & LOVE" for the upcoming exhibition.
The upcoming exhibition will showcase artworks by 15 artists who call the Palm Beaches home.  The exhibition includes exclusive interviews with featured artists that will play on continuous loop at the Art Gallery and air as "Creativity Takes Flight" on Palm Beach County's TV Station, Channel 20, with clips shared via social media.  Centrally located on level 2 in the atrium near the putting green, the Art Gallery's pre-security location encourages passengers and locals to stop by to discover unique artistic expressions by locally and internationally renowned artists.
This exhibition's theme, "MORE HOPE & LOVE", takes heartfelt aim at channeling the power and energy of hope, healing, love and community unity.  In addition to relating to the exhibitions theme, artists will share the influence COVID-19 had on their selected artwork. Art will be selected by a Selection Panel including members of the County's Public Art Committee, a representative from PBI, and Brian Wood, a licensed mental health counselor, therapeutic art counselor, and artist. Elayna Toby Singer, Palm Beach County Art in Public Places Administrator, is the Airport Art Gallery's Curator. 
"We are thrilled to highlight local artists in PBI's Art Gallery and to inspire more love and hope in the public realm," says Lacy Larson, director of communications for Palm Beach County Department of Airports. "The world needs more hope and love and our goal is to bring a bit of additional joy to our passengers, guests, and employees while at PBI."
The exhibition runs November 17, 2021 – May 17, 2022. 
"Research and lived experience shows that making and connecting with art has powerful healing effects. Art interactions can soothe our pain and lift our spirit, which is why this exhibition is so timely," said Elayna Toby Singer, Palm Beach County Art in Public Places Administrator.
For Call to Artists details and easy online application visit Palm Beach County Art In Public Places. Application deadline is October 11, 2021 at 4:00pm EDT.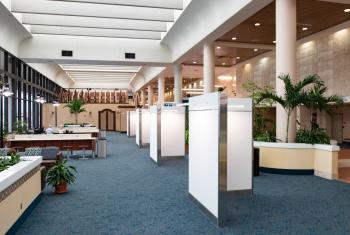 Art gallery at PBI
About the Art Gallery at Palm Beach International Airport
Located prior to security on level two in the main terminal, the Art Gallery gives local artists a place to connect with and be appreciated by thousands of travelers daily. Our mission is to elevate the visitor experience by providing an easy, stress-free atmosphere with the conveniences and feel of a small town airport.  The presentation of artwork created by artists locally based offers visitors a taste of the impressive cultural arts that make The Palm Beaches unique. 
Media Contact:
Palm Beach International Airport
Lacy Larson
Director, Airports Marketing
Palm Beach County Dept. of Airports
(561) 471-7467
About Palm Beach International Airport (PBI)

Palm Beach International Airport (PBI) serves more than 6.7 million passengers annually and offers 200 nonstop flights daily with 12 airlines. As a part of PBI's COVID-19 Preparedness and Response Plan, PBI became an accredited GBAC STAR™ facility and achieved Airport Health Accreditation by Airports Council International.
PBI is proud to be named the 8th Best Domestic Airport in Travel + Leisure Magazine's 2021 World's Best Awards. PBI also boasts 7th Best Airport in the World and 3rd Best Airport in the U.S. in Conde Nast Traveler's 2020 Readers' Choice Awards. PBI was named Second Best Medium Airport in the 2020 J.D. Power North America Airport Satisfaction Survey and ranked Best in the U.S. for Shortest Overall TSA Wait Times by U.S. Customs and Border Protection. For more information, visit pbia.org and follow PBI on Facebook, Twitter and Instagram for updates and announcements.
###